Participating in the Asheville Cotton Company's Quilt Club has helped me a great deal in learning about piecing and all sorts of tricks of the trade. There are some amazing quilters in the group.
The first year I participated I chose to do the holiday color option: red/green/gold. Each month we made a different block, for a total of 12 blocks. The blocks were all pretty intricate pieced patterns and being that piecing was a new skill for me I decided that I needed to make each block more then once. Therefore I made three companion blocks to each club block focused on one of the colors: red, green or gold.
And to make it even more  challenging, I reduced the number of fabrics to four no matter how many had been called for in the original pattern.
The goal each time was to keep the focus element of the block the same even with the reduced number of fabrics and colors. I had some real misses requiring reworking a few of the squares over the 18+ months I worked on this quilt. I certainly learned a great deal.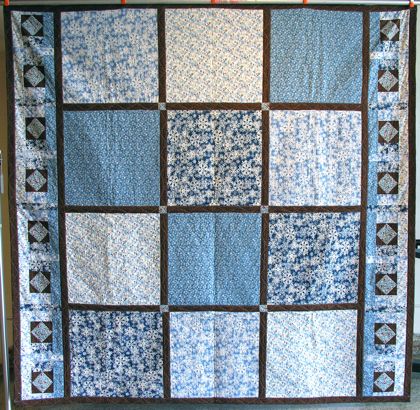 About half way through, I decided I would gift this quilt, when completed, to my in-laws. Knowing that they prefer blue tones and that they would appreciate a quilt that could be used outside of the holiday season, I decided to make the reverse side of the quilt a snow theme in blues.
Since I was planning to "stitch-in-the-ditch" on the holiday side, I decided to make the blue side predominately big squares, but with a fun border along the sides. (I had already decided to put a fun border on the holiday side.)
And, of course I needed to add another challenge, I decided to use a modified quilt-as-you-go technique. Turns out that was a very good choice as the quilt by the end was BIG and would have been extremely difficult to quilt as one piece on my small machine.