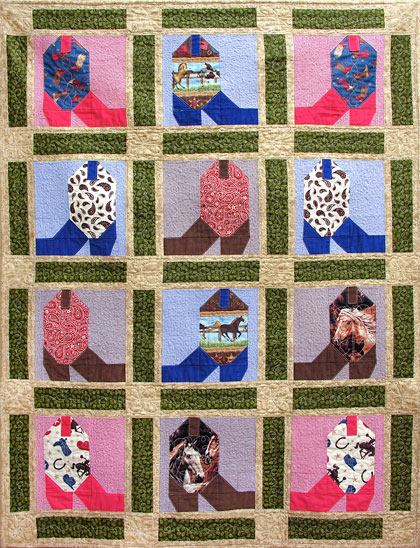 I had made a pair of cowboy booties as a shower gift and wanted to follow up with a cowboy boot quilt. I searched through pattern books and online shops and didn't find any patterns for blocks that I liked. I found many that were appliqué and some that were close, but none that really were the cowboy boot I envisioned. So, necessity being the catalyst for invention, I got to work and designed my own block.
Once I had the pattern designed I spent a good deal of time deciding what fabrics to use. I had some baby-wale corduroy in various colors and decided that was the perfect base for the boot toes and heals.
Using corduroy does add a level of complexity to cutting the fabric since you need to make sure you have both the wale and the pile oriented correctly. I love the texture it lends to the boots – both tactile and visual.
For the background around each boot I chose a tiny check fabric in colors that matched the corduroy. The difference in fabric weights necessitated care while sewing and directional pressing.
The fabrics for the main part of each boot were selected for color, scale and whimsy. I ended up choosing a couple fabrics that were scene based and others that were tossed patterns which I think adds to the charm.
Once I had completed the piecing of all the boot blocks I decided to quilt each block separately so as to be able to give different stitch patterns to each boot. The sashing was added using quilt-as-you-go techniques, which again allowed for detail stitching. And after assembly, I went back in and added quilting to the checked area around each book, which really helped the boots to stand out and stabilized the lighter weight fabric. Close ups of some of the blocks are shown below.
Want to make your own Cowboy Boot Block?
I've put all the instructions into a easy to follow pattern, complete with assembly diagrams. Available for PDF download from my Online Shop.