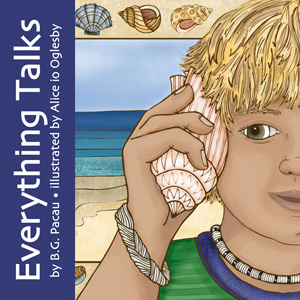 Everything Talks: You Just Have to Know How to Listen is the second full-color children's picture book that I illustrated. As the title suggests, the book is about sounds in the world around us. The goal of each illustration is to help evoke the sounds visually. Color, layout and incorporation of text into the illustrations were all key to accomplishing this.
I completed the art for each two-page spread as a single image, starting with hand-drawn line art. Once I was happy with the pencil drawings I inked the line art and then scanned it.
Since I wanted the lines to be super clean and smooth throughout, I cleaned up the scanned artwork in Photoshop then imported into Illustrator and used the trace tool to recreate all the lines with super smooth edges. I then reopened this new clean line art in Photoshop and applied color – using many, many layers in some cases to get the colors and textures I wanted. Seems like a lot of steps, but I was very happy with the result and the illustrations reproduced well.
Everything Talks – Paperback Book is Available at:
Spellbound Children's Book Shop
The Lofts at Reynolds Village
50 North Merrimon Avenue, Suite 107, Asheville, NC
Phone: 828-708-7570 • www.spellboundchildrensbookshop.com
And from my Online Shop: