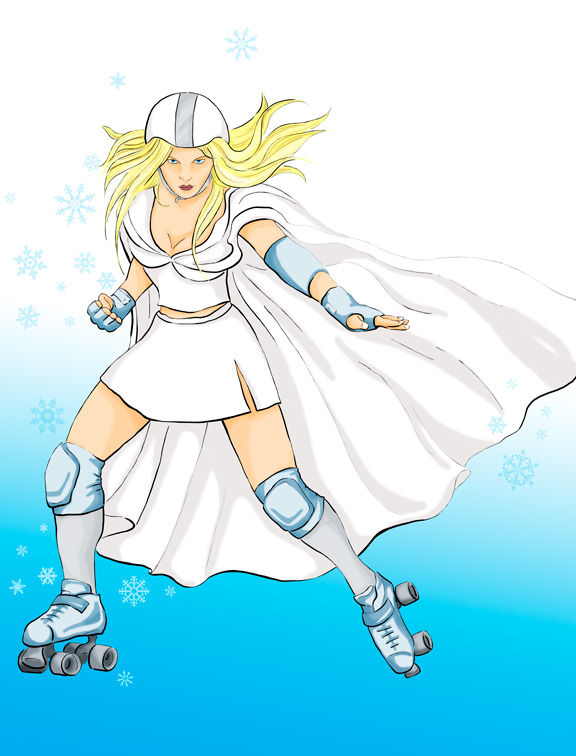 Once again I had the opportunity to create a poster for our local roller derby team, the Blue Ridge Rollergirls. I loved creating their posters! They gave me a theme and let me know what copy and partner logos needed to be included and then let me at it. Full creative license.
When Drag'n SlayHer told me the theme was "Frosted Skates" my mind thought of punning off Frosted Flakes, but Celeste had done an excellent "Lucky Charms" poster not too long before so it seemed a little too soon to do another. Frosty the Snowman seemed kinda clunky, so I quickly threw out that idea. Then the Hans Christian Anderson tale The Snow Queen came to mind – perfect, I thought – combined with sort of a Narnia White Witch image. I set about sketching, but it just wasn't working. I couldn't get the roller derby energy into an ice queen.
To make a long story short, after digging around the internet and thumbing through lots of books at the library, I came around to the X-Men character, Emma Frost. Now that was PERFECT. She is tough, icy, and well, her name is Frost so we ended up with a pun after all.
The illustration came together nicely, then I used Photoshop to clean up the lines and add color. And I got to use some of my cool Alien Skin Photoshop filters to create icicles on the type when I got to that point in the design.
Seems to me Emma Frost would make an excellent rollergirl. I'd get out of her way.
The images below show the transition from illustration to completed poster.